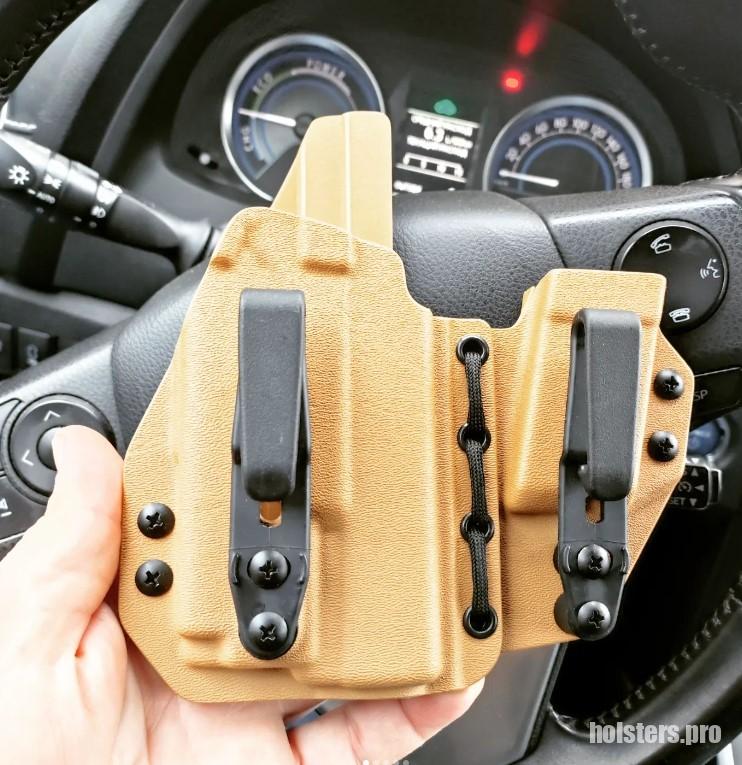 We are often asked about choosing a flashlight for a concealed carry pistol. Which one is better? There are several factors that influence this choice. Each owner's gun model and lifestyle is different, as are personal preferences and needs, along with budget. Let's discuss some of these points.
Life style.
If you live an urban lifestyle, then you probably don't need 1200 lumens to light up a hallway or bedroom. 500 lumens at 2am in a small bedroom is still pretty bright. Whereas a rural dweller may need a powerful flashlight to illuminate a driveway, farm, etc.
Bright light is both your friend and enemy. It simultaneously allows us to see and always shows others where we are. Use it sparingly and correctly.
Desires and needs.
The desire to have the latest and greatest is always a struggle. You will be surprised by the variety of lanterns to choose from. Some of them are famous brands while others are not so famous. We work with several flashlight manufacturers such as Olight, Surefire, Streamlight, Trustfire, Konus.
If you need a pistol holster with flashlight, we advise you to choose a big well-known brand. Because, for lesser known brands, it will be more difficult for you to find a manufacturer of holsters. And even if you find it, a custom solution is always more expensive.
In addition, certain flashlights are designed for pistols of the appropriate size. Yes, you can install Surefire X300 on CZ P10S. But it's probably not the best option for this type of setup. Find a flashlight that has been designed for the platform you are wearing. To put it simply, a compact pistol is a compact flashlight, a larger flashlight is suitable for a large pistol.
Some pistol lights look like they were made for this pistol. Perhaps because the engineers designed them that way. Both in terms of fit and in terms of functionality.
Lantern functions.
Let's talk about functionality. The location of the switches is very important. The switches should be positioned so that your fingers can reach them. When installing a third party adapter plate, the switches will always be lower than allowed. They usually place the switches at the bottom of the trigger guard, however this is too low for most people. Are switches a button. In which direction they are pressed, preferably by pressing down. Activation should ideally be on both the left and right sides. Can you use switches without looking at them?
Holster size
Every time you add a flashlight to a pistol, you increase its size. To do this, you need to move the fixing screws on the holster. There are no special problems with external holsters, but for internal ones – the larger the holster, the less comfortable it is to wear. This will help finding the right position for wearing. For some it will be Appendix Carry (12-13 o'clock zone), for others it will be Behind the Hip Carry (16 o'clock zone). Just remember that now all holding has to be done at the underbarrel as the trigger guard area is no longer available for retention.
Don't make problems for yourself.
Spend your money once. Spend money wisely. You will get what you paid for. If you buy another flashlight, then most likely you will have to reorder a holster for it. The flashlight is a very powerful tool in your EDC. We recommend that you carry a gun-mounted flashlight, but if possible, a separate hand-held flashlight as well.
Flaslight models
Model we have: INFORCE APLc, Konus TL, OLIGHT BALDR MINI, OLIGHT BALDR-S, OLIGHT PL MINI 2 (600 LUMEN), OLIGHT PL PRO (1500 LUMEN), OLIGHT PL-2 VALKYRIE (1200 LUMEN), OLIGHT PL-3 VALKYRIE (1300 LUMEN), STREAMLIGHT TLR-1 / TLR-1 HL, STREAMLIGHT TLR-7 / TLR-7A, STREAMLIGHT TLR-7 SUB (Glock 43x/43MOS/48MOS), STREAMLIGHT TLR-8 / TLR-8 G, STREAMLIGHT TLR-8 A / TLR-8 AG, SUREFIRE X300u (A/B COMPATIBLE), SUREFIRE X400u, Trustfire GM23.
This list is constantly updated.
Below you will find all kinds of kydex lantern pistol holsters we produce. Come in, choose your pistol model and flashlight. The order is processed quickly and easily.
If you have any questions or special preferences, please contact us – we will discuss a possible custom solution for you.