Dear friends, if you can't find the answer to you specific question, please feel free to ask it VIA contact form.
We will be happy to help you!
Frequently Asked Questions
What is a Kydex?
Kydex is a line of thermoplastic acrylic-polyvinyl chloride materials manufactured by Sekisui SPI. It has a wide variety of applications, including for aircraft bulkheads, firearm holsters, sheaths, and for knives.
I can't find my firearm in Model list, why?
At the moment we have professional molds only for those models from the list.
But you may send us a request for your gun model and we will obtain it if possible and add in the available list in 2 weeks. Please DO NOT PAY until contacting us about missing your model in a list. Paypal charges a fee for every transfer. in case of impossibility to find a model for your pistol model, we will have to make a refund, upon refund, this commission will be deducted from you! Pay for your order only if the exact model of your pistol is listed!
Please use our contact form and specify your model.
How long does it take to produce a holster?
If the mold for your firearm is available in the list, then it takes 2-3 days for producing ready holster.
If we need to order a molding for your pistol model, which is not on the list, then production will take up to 2 weeks.
How can I see your color options?

At the moment there are 9 colors in our stock, but much more available with pre-order – Contact us.
What are RCS Claws and Modwings?
More options, that's what it comes down to. They are 4 different concealment wings that work very similarly to one another but are aesthetically different than one another. 
What is the enlarged opening option?
Imagine a magwell on a firearm grip for easier reloads. That's exactly what our enlarged opening option is. It adds a 1/8″-1/4″ flat opening across the front of the holster that allows for easier reholstering, but does add some width to the holster.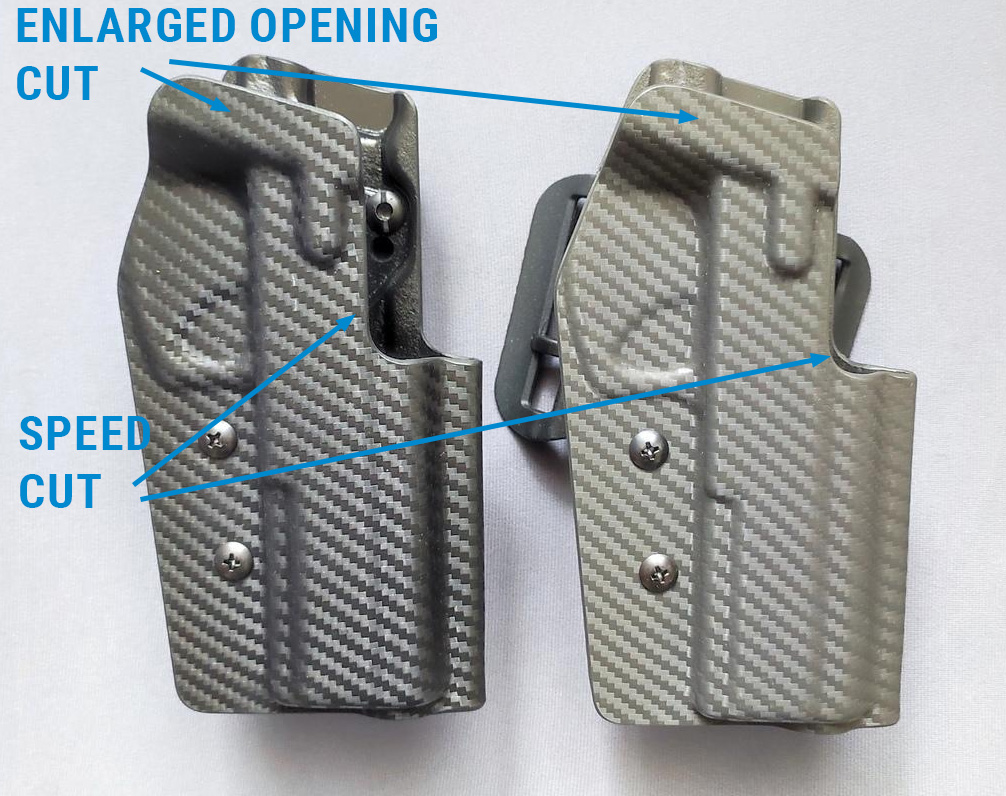 What are the differences in belt attachments?

What is the sweat guard option?
The sweat guard is the amount of kydex that comes up the rear of the firearm in between your body and the gun. A full sweat guard will cover the whole rear of the gun, a mid sweat guard will be in between the top of the gun and trigger guard, and no sweat guard will cut the back off to just above the trigger guard. 

What thickness of material do you use?
All of our material is made of .080″ Kydex or Holstex. We also offer Heavy Duty .093 in a limited amount of colors which is recommended for outside waistband holsters that will see heavy use. 
If I order a light bearing holster will it work without the light attached?
No, it won't.
If I order a holster with an optic cut does it matter if I have an optic cut yet?
No, it doesn't. You may use this holster.
Do you ship internationally?
Yes, we ship internationally but cannot guarantee that your order will make it through customs. If you are in a heavily restricted firearm country you may never receive your order.
Can I return my holster?
Our holsters are made to order, customized to your specifications, so we cannot accept returns.
Do your research before you buy, get your questions answered on our website, or email us if you have concerns before ordering. However, if you receive something that is our fault we will first make it right before considering accepting a return
Will your holsters create wear on my firearm?
Our molds are slighly overbuilt where retention doesn't matter allowing less wear to happen over time. However, wear will happen. It is inevitable. If that is something that concerns you with your current firearm I would recommend finding a firearm that you are not as emotionally invested in to carry.